Civil Works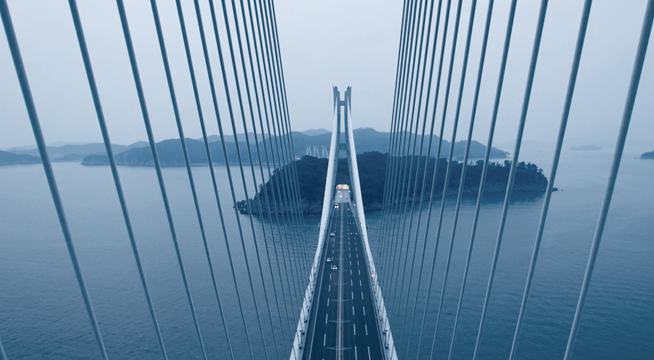 Our advanced civil engineering and building capabilities are making a considerable mark in the history of construction at home and abroad. Such experiences and expertise are now providing the foundations for luxury lifestyles and industries all over the world.
Our business territories are now expanding into Asia, the Middle East, South America, and Africa.
Highways
Daewoo E&C changes and enriches lives by leading the construction of large-scale highways in South Korea. We are also world leaders in the use of tunnel construction to maximize efficient use of land. The Inje Tunnel of the Donghongcheon-Yangyang Highway won the "Civil Structure of the Year" award in recognition of its minimal environmental impact.
We have also carried out grand-scale overseas projects such as the world's largest highway project undertaken by a single company in Pakistan, making us a global powerhouse in the highway construction sector.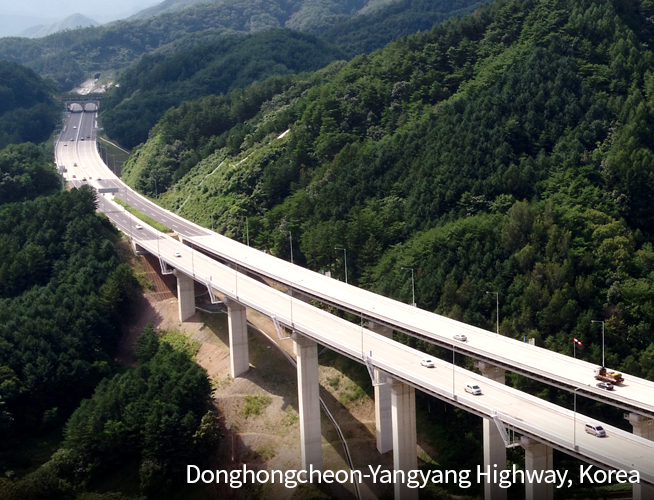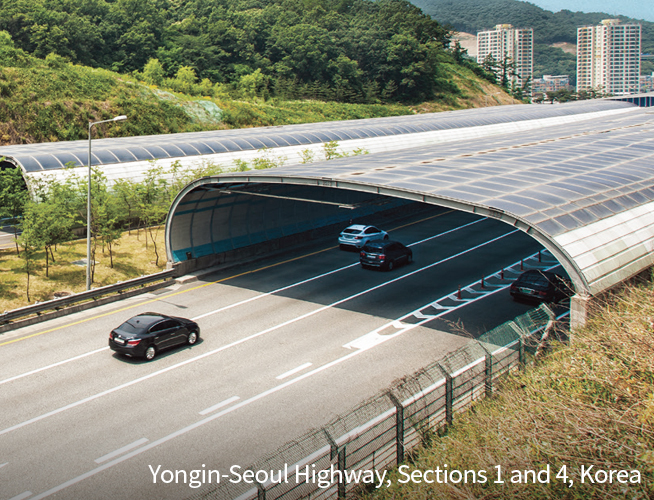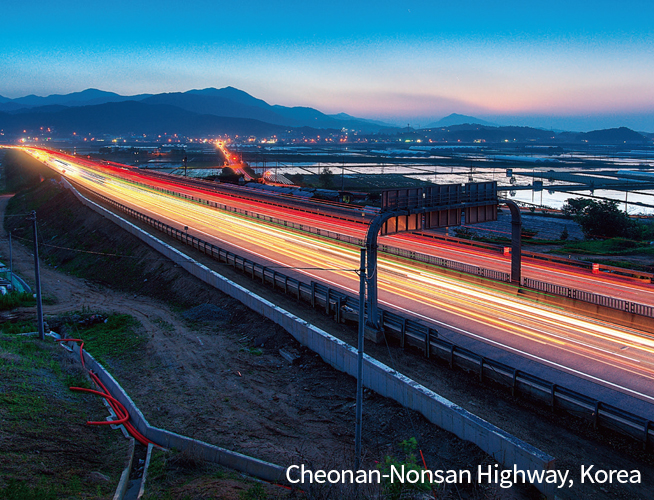 Donghongcheon-Yangyang Highway, Korea

Total length: 71.7km, 4-lane highway

Yongin-Seoul Highway, Sections 1 and 4, Korea

Total length: 22.9km, with 6-lane Included bridges, underpasses, tunnel

Cheonan-Nonsan Highway, Korea

Total length: 80.96km, with 4-lane Included bridges, tunnels, IC, service area

Guri-Pocheon Highway, Korea

Total length: 50.6km, with 4~6-lane Included Yangju line, tunnels, service area, toll gates

Orbital Highway, Qatar

Total length: 42km, with 14lane Included civil engineering, bridge, pavement work

lslamabad-Lahore Highway, Pakistan

Total length: 357km, with 3-lane Included planning, construction, maintenance, management as a turnkey project

Seoul Ring Highway, Korea

Total length: 5.1km, with 8-lane Included bridges

Daegu-Busan Highway, Sections 1 and 9, Korea

Total length: 68.4km, with 4-lane Included bridges, entrance and exit ramps, service area

Second Seohaean Highway, Section 2 (Pyeongtaek - Siheung), Korea

Total length: 42.6km, with 4~6-lane Included bridges, underpass, service area
Performance
Roads & Bridges
Since Daewoo E&C began building roads and bridges in 1978, it has built a number of major national infrastructure. Daewoo E&C is committed to applying our advanced technology to build convenient, yet beautiful, roads and bridges. The 8.2 km Geoga Bridge, which connects Geoje and Busan, drew international acclaim as being the world's longest structure built at the deepest underwater depth. Overseas, we have built marine bridges in Bihar and Mumbai, India, and a hybrid bridge linking Botswana and Zambia in Africa.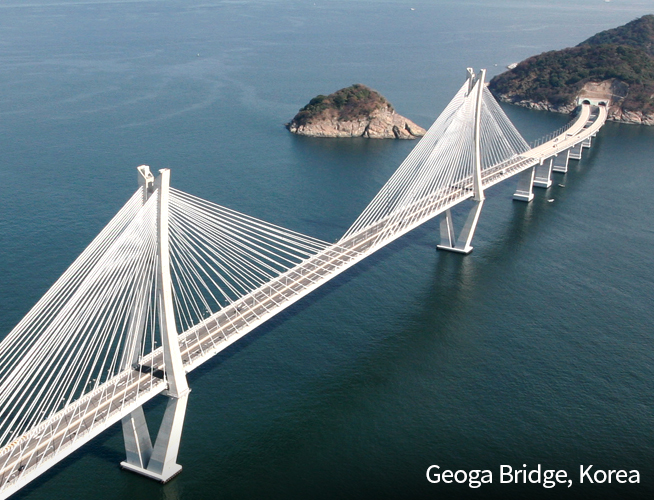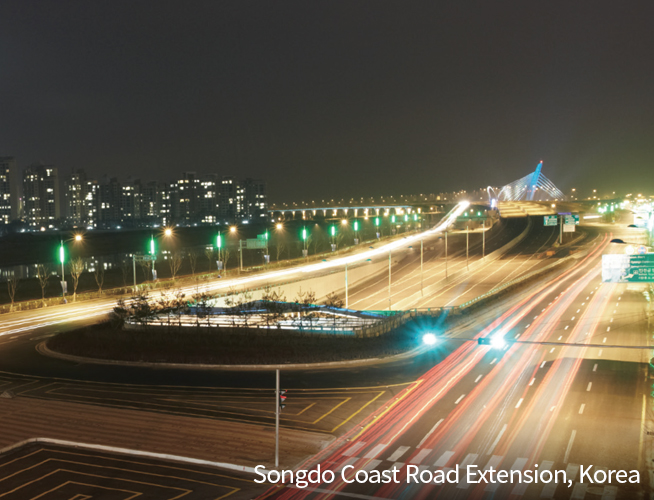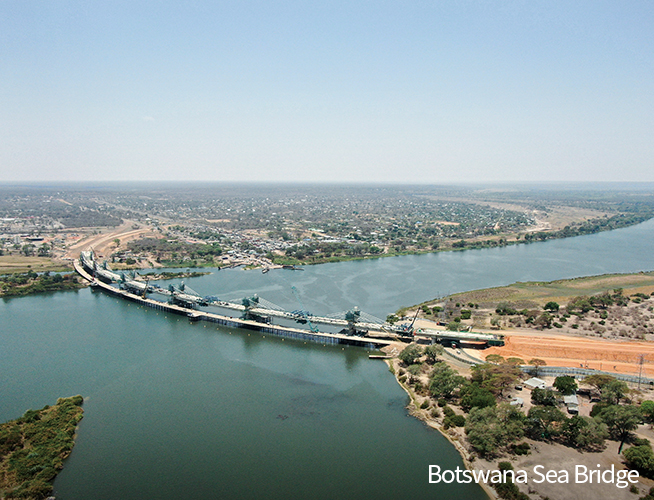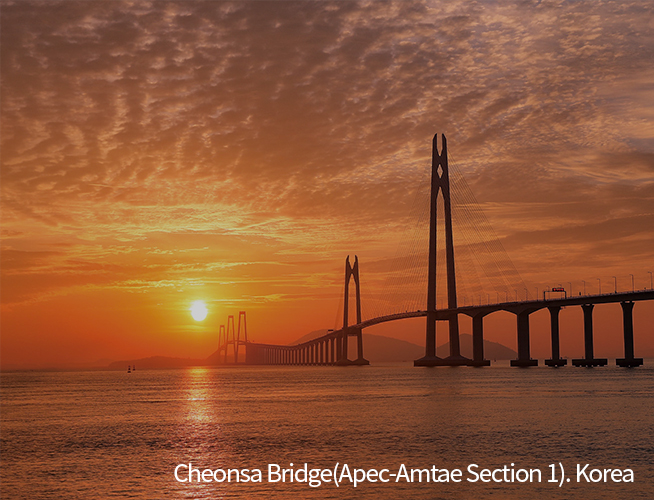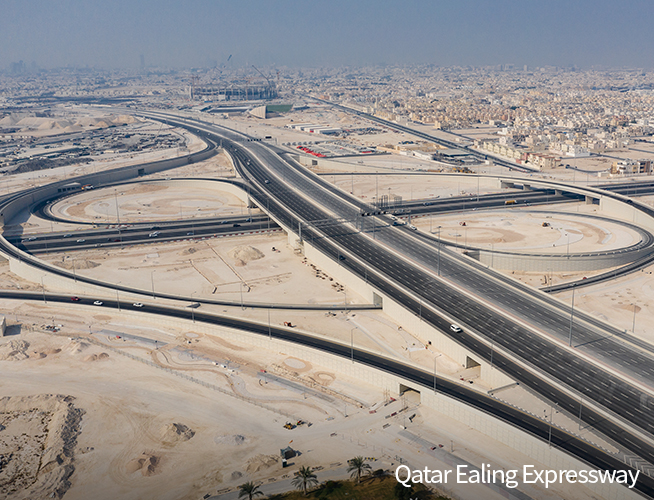 Songdo Coast Road Extension, Korea

Total length: 5.92km (Incheon Bridge - 3rd Gyeongin Highway) Expanded from 6-lane to 12-lane roadway

Botswana Marine Bridge, Africa

Total length: 0.9km An extra-dosed bridge (Botswana - Zambia) 2-lane roadway (1-lane railway)

Geoga Bridge, Korea

Total length: 8.2km Included a 3.7km-long undersea immersed tunnel, a 4.5km-long Cable-stayed bridge

Jeonju National Road Bypass, Korea

Total length: 11.3km (Yeongjeong - Yongjin) Included bridges (cable-stayed, beam, IC, etc.)

Multifunctional Administrative City Access Road, Korea

Total length: 4.9km, with 3 lanes each way, Included bridge and traffic safety facilities

Gyodong Bridge, Korea

Total length: 3.4km (Gyodong - Ganghwado) A marine bridge

Gimhae National Road Bypass, Sections 1 and 2, Korea

Total length: 19km (Busan - Gimhae), with 4~6-lane Included bridges, tunnels

Cheonsa Bridge(Apae-Amtae Section 1), Korea

Total length: 10.8km (Apae - Amtae, Sinan, Jeollanam-do), with 4-lane

Mumbai Trans Harbour Link Pkg2 (Marine Bridge), India

Total length: 7.8km, with 3 lanes each way (Mumbai Sewri- Nhava Sheva) Included access roads

Bihar New Ganga Bridge, India

Total length: 22.76km, crossing Ganges River, with 6-lane Included access roads
Performance
Railways & Subways
Daewoo E&C boasts industry-leading technology and construction experience in the area of high-speed railways. We maximize convenience and efficiency by drawing on our extensive experience, leading-edge design, and construction capabilities.
We have participated in the construction of almost all subway lines in Seoul and other major centers. We are also actively exploring overseas markets, including the Singapore Mass Rapid Transit system.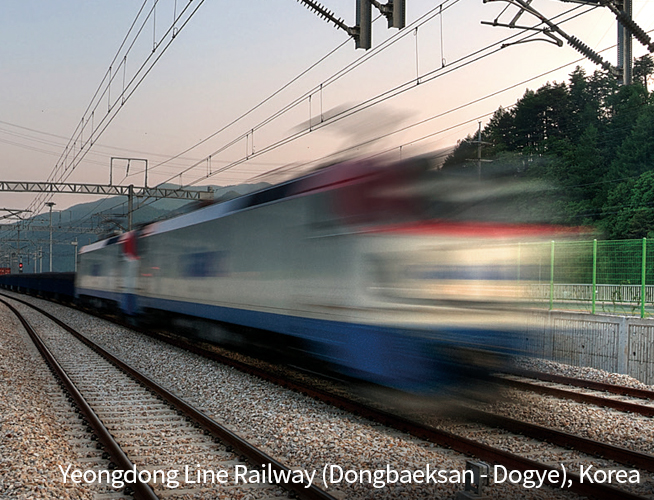 Honam HSR, Phase 1 (Sections 1-1 and 1-4), Korea

Total length: 182km (Osong Station, Chungcheongbuk-do - Songjeong Station, Gwangju) Included bridges and tunnels

Bundang Subway Line, Section 3, Korea

Total length: 46.8km (Wangsimni Station, Seoul - Mangpo Station, Suwon) Included undersea tunnels, stations

Yeongdong Line Railway (Dongbaeksan - Dogye), Korea

Total length: 17.7km Included the nation's longest loop-type tunnel for TaebaekSamcheok line in Gangwon-do

Sosa-Wonsi Double-Track Railway, Korea

Total length: 28.3km (Sosadong, Bucheon - Wonsi-dong, Ansan in Gyeonggi-do) Included 12 stations

Gyeongbu HSR, Sections 10-2, 13-3, and 14-2, Korea

Total length: 5.5km for 10-2 (including tunnel), 8.8km for 13-3 (including tunnel and culverts), and 9.9km for 14-2 (including tunnel, shaft, shelter)

Gyeongbu HSR, Sections 8-1 and 8-2, Korea

Total length: 11km for 8-1, 16.9km for 8-2 Included tunnels, bridges

Singapore MRT, Section 216, Singapore

Total length: 3.2km (1 station)

Seoul Subway Line No. 9, Sections 901, 903, 905, 911, and 914, Korea

Total length: 25.5km (Gimpo International Airport - Sinnonhyeon Station) Included 7 stations
Performance
Harbors & Reclamation
Daewoo E&C has become a leader in South Korea in the construction of harbor facilities, including revetments, breakwaters, and seawalls. By building the Busan Port-the nation's largest container port-we supported the emergence of Busan as a globally competitive logistics base.
Overseas, we have completed the repair of many shipyards, including in Oman and Qatar. We also take pride in our differentiated technology expertise. Daewoo E&C has garnered international recognition for its technology in this area, with a solid track record in developing harbors, shipyards, and dams at home and abroad.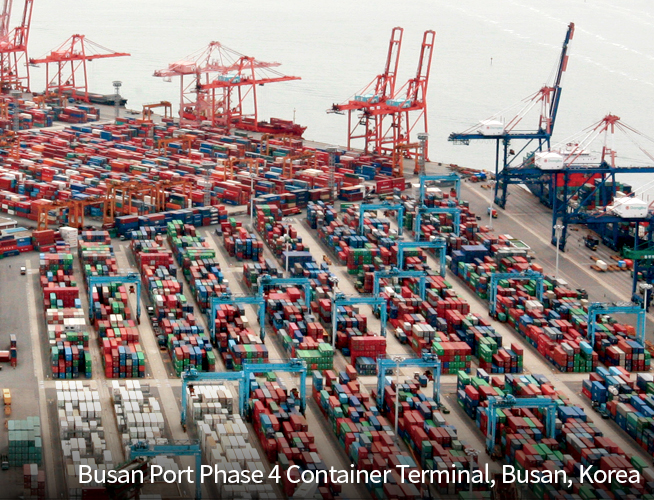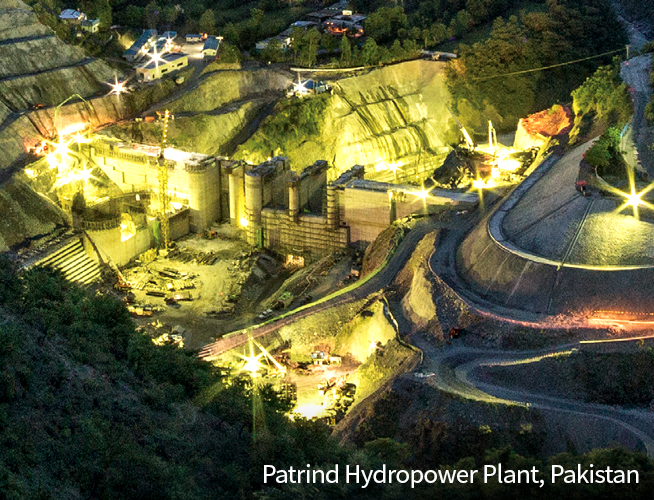 Sihwa Lake Tidal Power Plant, Ansan, Korea

South Korea's first and the world's largest tidal power plant Capacity: 550,000MW/year

Busan Port Phase 4 Container Terminal, Busan, Korea

Included container cranes and transfer cranes Capacity: 1.28 Million TEU/year

Patrind Hydropower Plant, Pakistan

Included major structures (weir, headrace tunnel, power house, bypass). Installed Capacity: 150MW

Ulsan New Port Development Phase 1-1 Privately Financed Facilities, Ulsan, Korea

2-wire container pier, 2-wire multipurpose pier, 2-wire ore pier

Busan New Port Container Terminal Construction and Backland Land Development, Busan, Korea

Included container terminal and a 14km-long quay for berthing Handling capacity: 13.25 Million TEU/year

Qatar Repair Shipyard Nakilat Ship Repair Yard Project, Qatar

LPG carriers and other large ship repair and maintenance facilities Included dry docks, quays, piers

Oman Ship Repair Yard Ship Repair Yard and Dry Dock Complex at Duqm Port, Oman

VLCC repair and maintenance facilities Included large dry docks, breakwater

Gwangyang Port Phase 2 Container Terminal, Gwangyang, Korea

Capable of servicing two 50,000-ton ships and two 20,000-ton container ships simultaneously Capacity: 815,000 TEU/year

Djen Djen Port Container Terminal, Algeria

1.6km Quay wall and 33ha container site development, dredging and reclamation
Performance
The Environment
Daewoo E&C has consistently proven itself to be South Korea's top performer in the innovative construction of water treatment facilities, including sewage treatment plants, water purification plants, and sewage pipelines. By developing new technologies such as Daewoo Nutrient Removal (DNR) sewage treatment system, we have taken the ground-breaking approach of moving all treatment facilities underground, creating parks aboveground and improving public amenities.
Daewoo E&C invests in innovative technology development that is leading the way in future energy generation and supply. We are also becoming a recognized leader in the green energy business.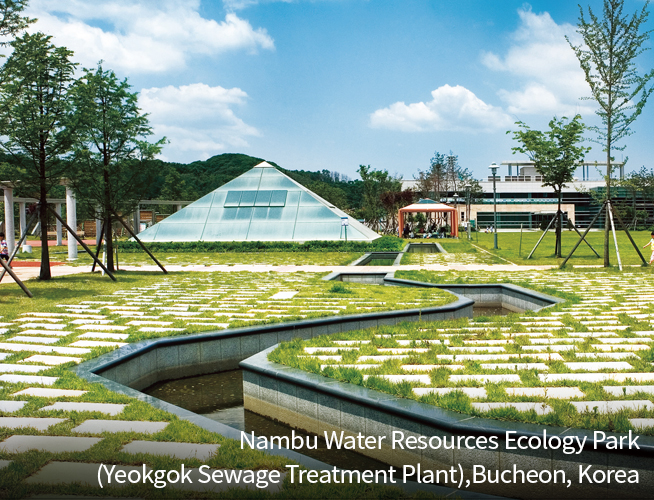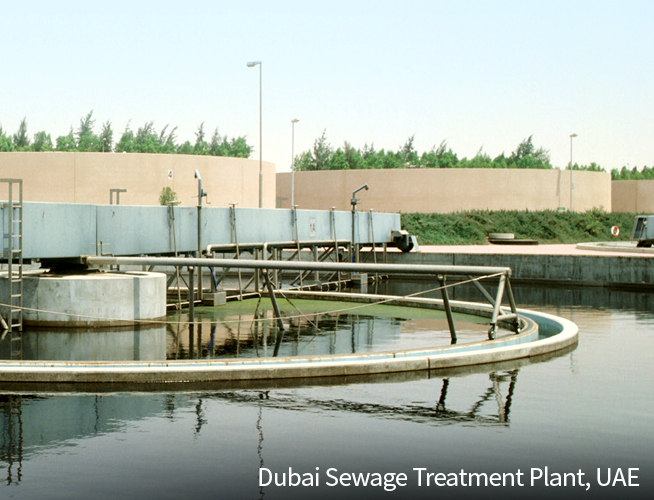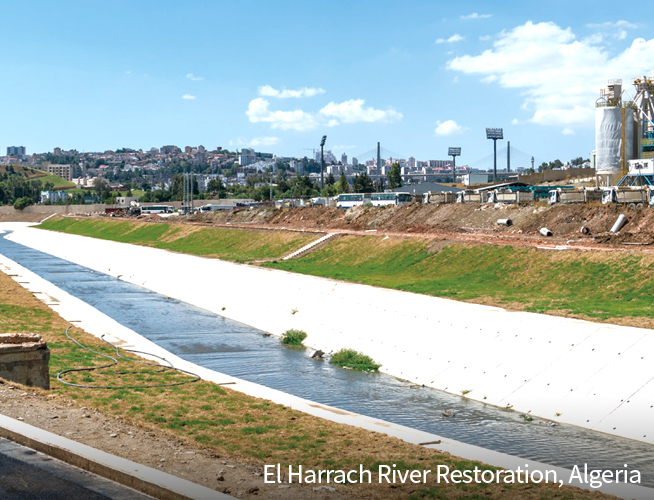 Dubai Sewage Treatment Plant, UAE

Included a 91km-long pipeline and a pumping station Capacity: 130,000 tons/day

El Harrach River Restoration, Algeria

First overseas river restoration project undertaken by a South Korean construction company Included pipeline construction, park, pumping station Total length: 18km

Nambu Water Resources Ecology Park, Bucheon, Korea

Included sewage treatment facility, recreation/amusement park Capacity: 50,000 tons/day

Guui Water Purification Plant, Seoul, Korea

Capacity: 250,000 tons/day for standard water purification and 450,000 tons/day for advanced water purification

Bukbu Water Resources Ecology Park, Bucheon, Korea

Included sewage treatment facility and a recreation/ amusement park Capacity: 150,000 tons/day

Jeju Solar Power Plant, Jeju, Korea

Included 87 solar power systems Installed Capacity: 47.5 MW

Ulsan Thermal Power Plant Desulfurization Facility, Units 4 to 6, Ulsan, Korea

Waste water treatment capacity: 200 tons/day

Constantine River Restoration, Algeria

Included 8.35km river maintenance, 8.35km trail on the terrace land

Daegu DBS (Daewoo Biogas System), Daegu, Korea

The first biogas plant ever built in South Korea Treatment capacity: 300 tons/day
Performance
Leisure
Daewoo E&C is committed to meeting this challenge by constructing a wide range of leisure facilities that allow for enjoyment and play amidst our hectic, modern lifestyles. Today, our highly regarded construction approach seamlessly integrates nature into our designs. We have greatly increased the quality of golf courses constructed in South Korea.
The Pocheon Adonis Country Club, which led the advancement of golf courses in Korea, Gangwon Land, which was built at 1,150 meters above sea level, and Yeongcheon Country Club, which has been recognized as a luxury course, has upgraded golf culture in Korea to the next level. In other countries, we have also built high-end golf courses and resorts that intertwine seamlessly with the local natural scenery.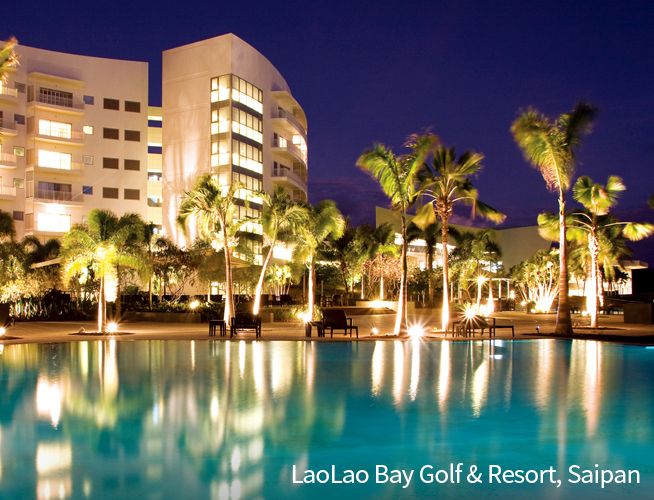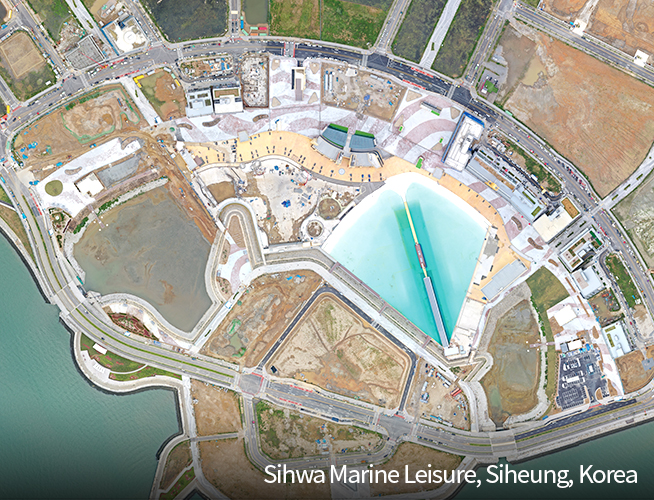 LaoLao Bay Golf & Resort, Saipan

Developed area: 1,600,000㎡

Suyeongman Bay Reclamation and Yachting Center, Busan, Korea

Size: 231,000㎡ Included international standard yachting center, public recreational facilities Mooring capacity: 1,500 yachts

Adonis CC, Pocheon, Korea

Size: 1.85 million ㎡ Included sports facilities

Paganica CC, Chuncheon, Korea

Size: 1.4 million ㎡ Included forest bathing area, village

Yeongcheon CC, Yeongcheon, Korea

Size: 1.3 million ㎡ Designed and supervised by Vijay Singh

A-One CC, Yangsan, Korea

Size: 1.68 million ㎡

High1 CC, Jeongson, Korea

Size: 1.09 million ㎡ Involved redevelopment of an abandoned mine area with Jeongseon-gun and casino in Gangwon-do
Performance