Precision Management
Code of Conduct
Ethics Charter
1

We develop an ethical corporate culture, through fair and transparent business conduct.

2

We respect customers and put priority on customer satisfaction in management activities.

3

We respect individuals' dignity and take the initiative in protecting the rights and interests of the disadvantaged and promoting their equality.

4

We comply with all international agreements and laws regarding human rights, environment, culture and economy.

5

We do not abuse a dominant or privileged position to carry out misconduct against related personnels.

6

We, as a member of the society, fulfill our social responsibility and contribute to the development of community.

7

We become talented people who continue to practice the core values of the company.
Code of Ethics
Presenting the correct standards of behavior and value judgment for each major stakeholder company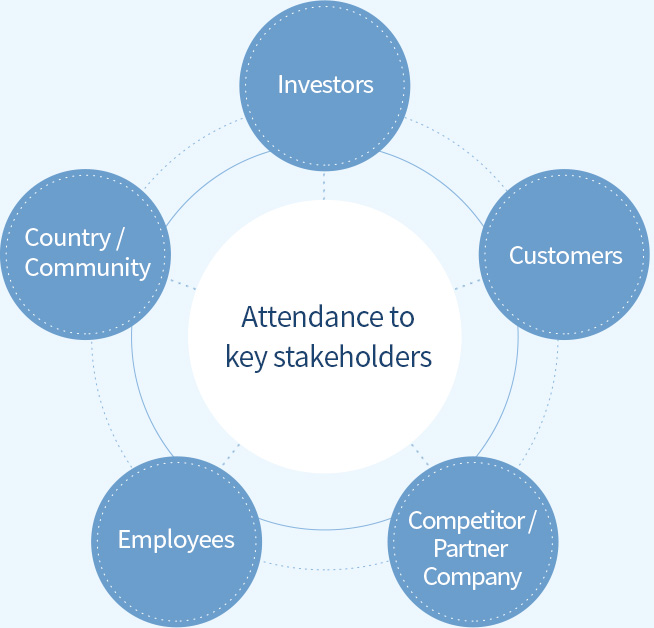 Guidelines
1

Protect company assets and intellectual properties

2

Prohibit monetary payment

3

Prohibit illegal gains, including money and goods

4

Prohibit entertainment

5

Prohibit announcing family affairs

6

Prohibit receiving event sponsorship

7

Prohibit sexual harassment

8

Prohibit conflict of interest with the company

9

Prohibit political involvement

10

Raise issues on Code of Conduct violation and its disciplinary action
Daewoo E&C Human Rights Policy
Article 1(Purpose)

The policy stipulates principles and procedures for the company to comply with international standards, including ILO statements and OECD human rights guidelines, and domestic laws and regulations regarding human rights, through which the company prevent risks of human rights violation and fulfill its social responsibility.

Article 2(Scope)

The policy applies to the company's executives and employees, subsidiaries, and joint ventures. The company expects respect for basic human rights to its subcontractors and partners..

Article 3(Standards)

- Tripartite Declaration of Principles concerning Multinational Enterprises and Social Policy
- OECD Guidelines for Multinational Enterprises
- UN Global Compact, UN Guiding Principles on Business and Human Rights
- The Constitution of the Republic of Korea
- Laws related to labour (the Labor Standards Act, Employees Union Act, Act on the Term and Part
- Time Workers and Worker Dispatching Act)

Article 4(Principles)

① Comply with international standards, The Constitution of the country, and Laws related to labour
② Prohibit unfair discrimination based on race, religion, delay, school, blood, sex, disability
③ Exclude illegal labor practices including forced labor and child labor
④ Prevent negative impacts on human rights due to company's business activities
⑤ Solve problems and improve the company's systems through prompt response whe adverse effects occur

Article 5(Prevention)

The company inspect its workplaces, train executives and employees, and promote respects for human rights to prevent risks of violations.

Article 6(Response)

The company operates a reporting system for both inside and outside stakeholders, investigate when the case is reported, and establish measures to prevent recurrence of similar cases

Article 7(Et cetera)

Details which are not handled in the poliy are dealt under the company's compliance system and the company shall always be in a sincere attitude to matters related to human rights.