Proudly contributing to our customers' happiness. In 1994, Daewoo E&C became the first company in South Korea to introduce the concept of eco-friendliness to apartment complexes.
The concept involved building a sense of brand trust by presenting potential buyers with the company's vision for PRUGIO and PRUGIO SUMMIT homes as places where people could lead happy, fulfilling, and meaningful lives. We are also contributing to the health and happiness of our customers' lives through the development of innovative urban residential complexes, studio apartments, and redevelopment, reconstruction and remodeling projects.
By acting as front runners of the smart home sector, we are modeling a new residential culture that seamlessly blends people, the environment and technology into customers' homes.

Apartments

Apartment buildings are the most efficient and convenient type of living space available; they enhance the value of land while contributing greatly to housing security.
Daewoo E&C has been leading lifestyle trends in this area by presenting the most advanced residential culture for apartment buildings since entering the field in 1984.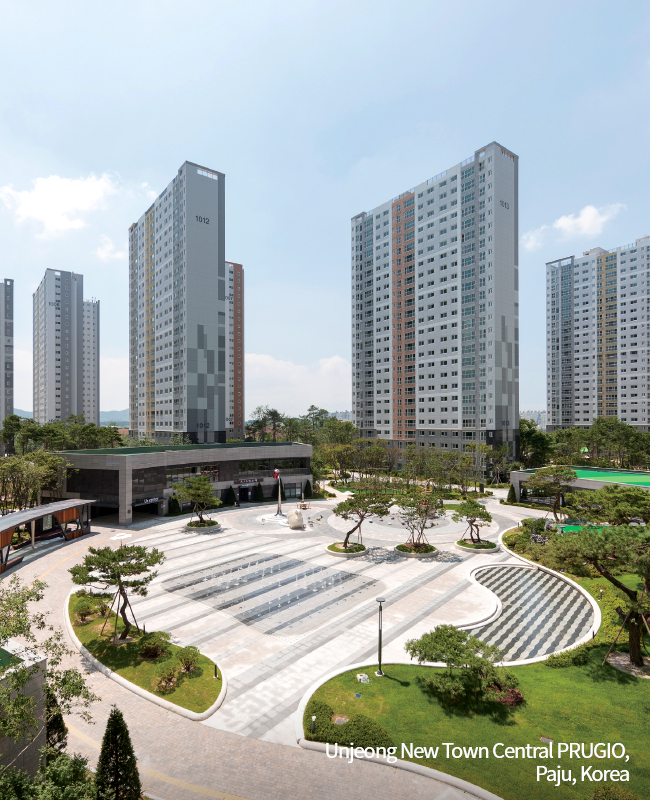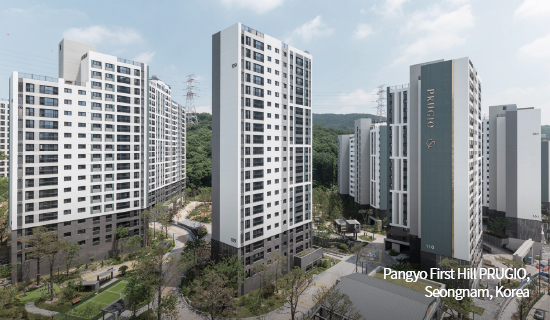 In 1994, Daewoo E&C raised the standard of South Korea's residential culture to the next level through the introduction of eco-friendly considerations into apartment buildings.
In 2003, we made another indelible mark in this field through the launch of our PRUGIO eco-friendly apartment complex brand, which showcases our philosophy of combining premium residential lifestyles with livable cultural spaces and the environment.
PRUGIO has proven its brand power by ranking first in supply performance for the eleven years since its launch as well as in the Korea Standard-Premium Brand Index (KS-PBI) survey.
It was also the first apartment complex brand to be named "Good Design".
We also launched our PRUGIO SUMMIT high-end residential product brand in 2014, creating quality luxury living spaces. Daewoo E&C is continuously developing 'PRUGIO Edition', a PRUGIO product strategy newly composed after reflecting up-to-date residence trends and applying to selected apartment complex.
Performance
>Unjeong New Town Central PRUGIO, Paju, Korea

1 story below the ground and 25 above; 21 buildings, 1,956 apartments
>Geomdan New Town PRUGIO The Venue, Incheon, Korea

2 stories below the ground and 29 above; 16 buildings, 1,540 apartments
Excellence Prize in general large-size sector of the 'Best Apartments To Live'of Maeil Business News Korea
Grand Prize in IoT sector of 'Green Construction Awards' of Asia Today
>Pangyo First Hill PRUGIO, Seongnam, Korea

3 stories below the ground and 20 above; 18 buildings, 974 apartments
Grand Prize in complex landscape sector of the first-half 'Housing Culture Awards'of Korea Economic Daily
Grand Prize in housing awards of 'Korea Construction Awards' of Dong-A Daily News
>Cheongju Technopolis PRUGIO, Cheongju Korea

2 stories below the ground and 25 above; 12 buildings, 1,034 apartments
Excellence Prize in general large-size sector of the 'Best Apartments To Live'of Maeil Business News Korea
>Geomam Royal Park City PRUGIO 1,2 complex, Incheon, Korea

2 stories below the ground and 40 above; 25 buildings, 4,805 apartments
>Gunsan The Ocean City PRUGIO, Gunsan, Korea

2 stories below the ground and 29 above; 11 buildings, 1,400 apartments
>Gwangju Central PRUGIO, Gwangju, Korea

2 stories below the ground and 20 above; 18 buildings, 1,425 apartments
>Pohang Jangseong PRUGIO, Pohang, Korea

2 stories below the ground and 30 above; 11 buildings, 1,500 apartments
>Chuncheon Central Park PRUGIO, Chuncheon, Korea

2 stories below the ground and 32 above; 14 buildings, 1,556 apartments
Grand Prize in environment friendliness of 2nd-half'Housing Culture Awards'of Korea economic Daily
>Gyeongju Central PRUGIO, Gyeongju, Korea

2 stories below the ground and 25 above; 15 buildings, 1,671 apartments
Grand Prize in high quality apartment sector of 'Korea Construction Awards' of Dong-A Daily News
Comprehensive Grand Prize (Prize of Minister of Land, Infrastructure and Transport) of 'Construction Awards' of Aju Business Daily)