Sustaining growth built on
advanced technology and trust. The construction of industrial plants is a knowledge-based, high value-added sector that combines technologies in repair and maintenance, from the procurement of machinery and equipment to engineering competence, construction, supervision and trial operations.
Daewoo E&C has been leading the construction of thermal power, cogeneration, tidal power, and nuclear power plants, LNG storage, and other facilities with our outstanding technology and passion.
In addition, Daewoo E&C is making good records in high value-added plant construction competing with global companies in overseas plant markets.
Recently, we are adjusting to changes in the energy paradigm, promoting commercialization in new renewable and clean energy sectors by R&D and investment in those sectors.
LNG, Oil & Gas

Daewoo E&C has unrivaled technical skills in oil and gas transmission and storage equipment including oil and gas refining plant.
Especially in LNG liquefaction plant sector, it is leading overseas markets with high-level competitiveness and experience, including performing LNG Train 7 Project in Nigeria as the first main contractor of EPC among Korean construction companies.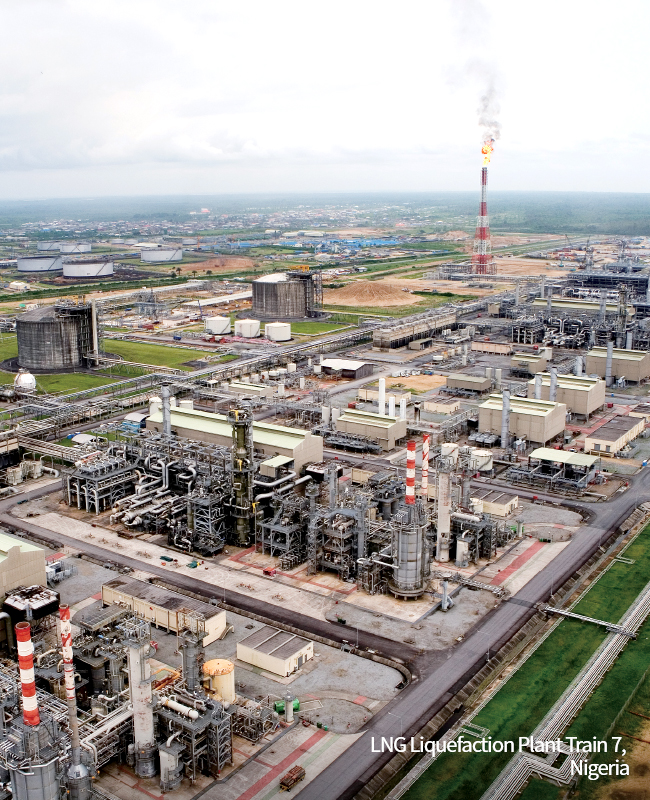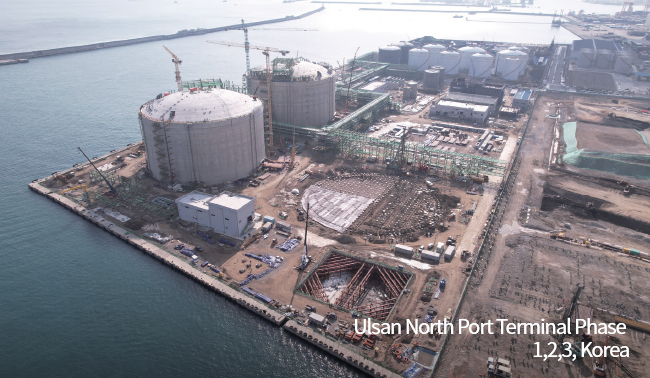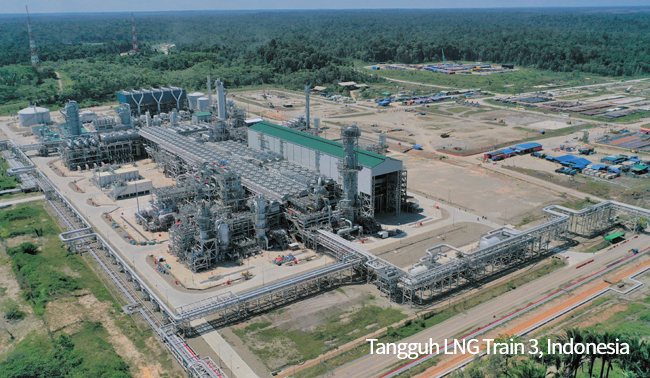 LNG plants have been in the spotlight for its sustainable growth in business following a rise in LNG demand due to worldwide GHG emission reduction efforts and increased shale gas production.
Daewoo E&C has constructed approximately 50% of LNG regasification plants and storage tanks in South Korea.
These include Tongyeong, Incheon and Pyeongtaek LNG receiving terminals.
Based on such experience and technology, we have successfully performed construction of LNG processing plants, transmission equipment and pipelines in overseas markets including Nigeria, Algeria, Russia, Papua New Guinea and Indonesia.
Furthermore, we will lead in developing new markets with knowhow and technical skills accumulated through various results including LNG liquefaction plant in Nigeria and Tangguh LNG Train 3 in Indonesia.
Performance
LNG Liquefaction Plant Train 7, Nigeria

Capacity: 7.8 Million Tons Per Annum
Ulsan North Port Terminal Phase 1,2,3, Korea

Vaporization equipment, 3 LNG tanks with 215,000㎘ capacity and supplementary facilities
Tangguh LNG Train 3, Indonesia

Capacity: 3.8 Million Tons Per Annum
Papua New Guinea LNG Liquefaction Plant, Papua New Guinea

Capacity: 3.15 Million Tons Per Annum × 2 trains
Central Area Field Complex(CAFC), Algeria

Capacity: 32,000 barrels/day associated oil processing and other facilities
Gbaran-Ubie Gas Processing Plant, Nigeria

Capacity: 1BMscf/day
Hout Gas Facility, Saudi Arabia

Associated gas collection, compression, dehydration and delivery from existing crude oil facilities
Arzew LNG Liquefaction Plant, Algeria

Capacity: 4.7 Million Tons Per Annum
Sakhalin LNG Liquefaction Plant, Russia

Capacity: 9.7 Million Tons Per Annum